Lovebirds: Jason and Chris Webb
Since Valentine's Day is this week, AAR will be profiling husband and wife teams of REALTORS® who have been able to successfully work and live together. This week, we'll hear some of their stories and get some advice on how they keep the love alive.
Today: Jason and Chris Webb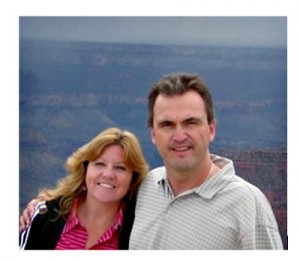 Chris and Jason met a crossroads, literally. Chris was born in British Columbia, Canada and Jason lived in Saskatchewan. They had both moved to Calgary, Alberta after high school and in 1988, met at a nightclub aptly named, The Crossroads. Chris said, "Jason and his friend introduced themselves to me and my friend, and bought us a drink. We hit it off right away and soon became an inseparable young couple. Five years later, to the day, we had a small wedding, and we spent the night in the honeymoon suite at the Crossroads Inn. We've been together for almost 25 years now, and will celebrate our 20th wedding anniversary in August."
In 2004, Chris joined Jason and became a licensed agent. They opened their own brokerage, Desert Peak Realty, in 2011 and they've been working together ever since. In addition to running a successful business, Chris and Jason also adopted a "fur-baby" named Rusty, a beautiful mixed-breed dog a year-and-a- half ago.
Here's how they do it:
How did you make the decision to work together? Was it easy or hard? 
"It was easy," said Chris. "I was unhappy with my current desk job, and Jason was really busy selling homes in what was then the 'real estate boom'. It wasn't hard for him to convince me to quit my job to assist him with the business."
What's been the hardest part of working together?
Chris: "I honestly can't think of any negatives."
What's been the best part about working together?
Chris: "There are so many positives. We enjoy each other's company, so it's natural to be together in the home office a lot of the time. The best part for me is that, because we are self-employed, we can create our own work schedule."
How do you think being a husband and wife team helps your clients?
Chris: "We are a package deal. Our clients get two-for-one service. If one of us is unavailable at a particular time, the other will fill in. It doesn't take long for most clients to figure out which of us to go-to for particular questions."
Do each one of you take on a specific role in the business? If so, what?
Chris: "Jason is the office manager and I am the designated broker, but we both represent buyers and sellers. Jason handles all the property management, paperwork, compliance, technology, and accounting. I write the MLS listings, administer the Facebook page, write blogs, negotiate with banks on short sales, and sign the checks. Basically, he does anything to do with math or technology, and I do anything involved with writing. I don't think I could do this without him. He keeps everything well-organized."
How do you keep the love alive?
Chris: "We don't just work together, we also play together. We are best friends. We never take up a hobby or interest without including each other. We share the same friends, eat the same foods, watch the same movies. We never tire from being together most of the time."
Any advice for other husband and wife teams?
Chris: "Not all couples can do this successfully. If what you're doing works for you, keep at it. Just make sure you take enough time for enjoying each other instead of it being all work, all the time. Always respect your partner at least as much as you respect your work."
For more information about Desert Peak Realty, visit http://desertpeakrealty.com
Want more lovebirds?