The July Issue of Arizona REALTOR® Magazine is Out!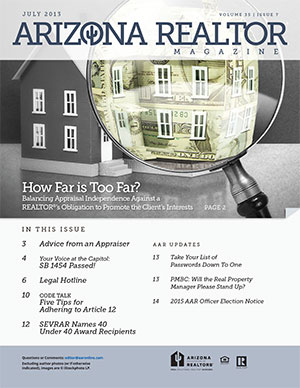 This month, AAR General Counsel Scott Drucker, Esq. explains "How Far is Too Far?" when it comes to finding a balance between appraisal independence and promoting your client's best interests.  We'll also talk to a practicing appraiser to get his professional opinion, especially when it comes to bidding wars.
In July, AAR takes a good hard look at Article 12 of the Code of Ethics and offers five ways to make sure you're advertising is code-compliant.
Last month, AAR celebrated a victory at the legislature with the passing of SB 1454. Vice President of Government Affairs Nicole LaSlavic gives full report on how this will affect HOAs and property managers alike.
We also feature a new member benefit: #AskScott.
Read the entire issue, here.
Note: Some articles are for AAR members only and are therefore password protected. If you've forgotten your password, click here to reset it.
Enjoy!
appraisals
,
How Far Is Too Far
,
SB 1454
,
Scott Drucker