5 Ways to Improve a Home's First Impression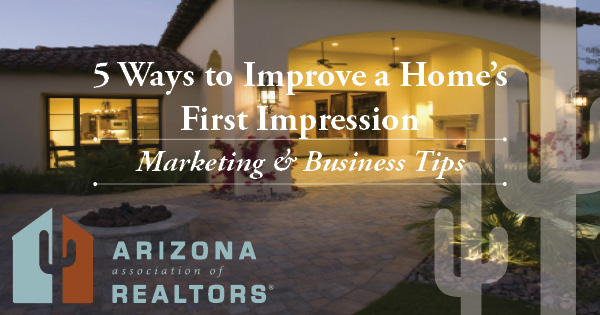 In just a few days, your new listing will hit the market. If real estate is hot in your area, it might sell fast just because it exists. But if you are in a slower market or you just want to make sure you maximize the home's selling potential and price, there are a few sure-fire solutions your seller can do easily to dramatically improve a home's first impression. Sometimes buyers might not even consciously notice these changes but in the back of their mind it might help distinguish your home from the competition. Even first-time buyers on a limited budget want designer and high-end features. Buyers of all kinds want a house to seem homey on first impression. They often look for a home that communicates safety, low maintenance and few repair costs. The key is to know your audience.
What Do the Garage Doors Say?
Are the garage doors banged up or dented? Do the seals close snugly along the concrete floor with no gaps? Is the color appealing to the neighborhood and match the home? While replacing garage doors is not inexpensive, since garages so often take up so much real estate on a home's exterior, it may be well worth it for your homeowners to consider the upgrade ahead of the photographer coming.
What Kind of Buyer Does the Yard Attract?
We know having fresh flowers near the door is important but is the lawn a lush green, recently mowed and edged? Are plants mature but not crowding each other? Have trees and hedges been trimmed? A front yard should not communicate a sense of being high maintenance to buyers. If your clients are on a time-crunch, point them toward landscape companies or even a day laborer who can freshen up the whole yard in a day or two. Adding new bark, clean gravel or pressure washing might also be on the yard to-do list.
Does a Home Appear Secure?
Buyers might not say out loud they care about a home being safe, but buyers do care and don't want to go out of their way to make improvements to security after moving in. Security cameras can be stylish and modern. When placed strategically around the perimeter of a home, cameras tell prospective buyers that as soon as they move in, everything will be safe. Some camera systems don't require monthly subscriptions. Other simple security measures include ensuring gates and doors lock properly. The agent shouldn't have to struggle awkwardly with the lock when opening the front door. Last, the lock and deadbolt might need to be upgraded to a more modern finish such as oil-rubbed bronze or antique brass to communicate an updated feel.
What Does the Very First Room Look Like?
Much like the front of the house and the yard, the first room a buyer walks into sets the tone for the house. Furniture should be strategically placed so it floats in the room and there should be no more than two pieces of furniture per wall. If carpet is worn, consider adding a new floor rug, set at an angle from a couch or large piece. And change light fixtures. Even if the new lighting is temporary, a well lit room with updated fixtures can make a big difference.
What Does the House Smell Like?
REALTORS® often bake chocolate chip cookies for an open house just to infiltrate potential buyers' olfactory senses with a familiar, welcoming smell. You can be ready for any buyer who comes at any time by using a candle warmer instead. These are safe if left on for period of time while the home is unoccupied because there is no flame. Try pine, cedar, bergamot or other earthy-woodsy scents over floral or sweet ones.
This article originally appeared on the REAL Trends blog and is being reprinted with permission of REAL Trends. Copyright 2015.