Arizona Residential Real Estate Market Report – July 2016
This is a snapshot of four different regions of the Arizona real estate market for July 2016. For more about how these segments are divided, please see the note at the end of this article.
Quick Takeaways – Real Estate Across Arizona
We're seeing signs of a seasonal decrease in market activity; however, July real estate markets in Arizona are often weaker and may be a bit quirky, perhaps signaling a seasonal change
Lower inventories with strong demand continues to drive a seller's market
Median home prices are slightly ahead of last month
No significant changes, just a continuation of trends set earlier in the year.
Sales Decrease Statewide: Is Summer Finally Here?
I think it's safe to say that the seasonal market slowdown that we've been expecting has begun (Chart 1).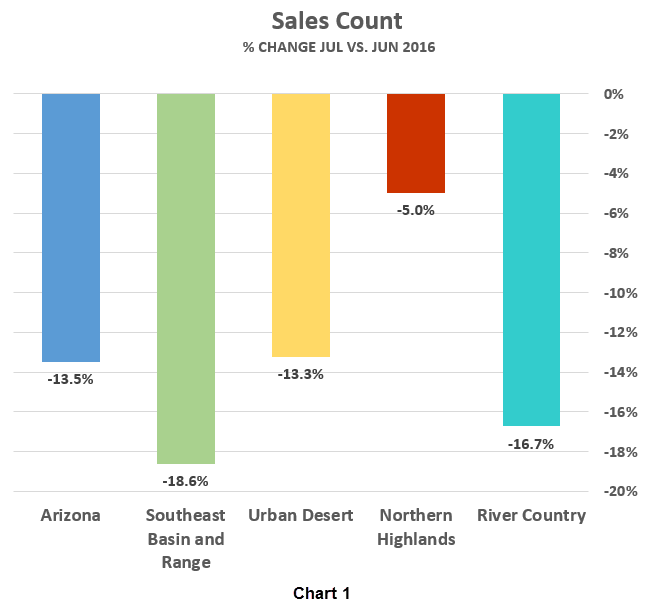 Every region in the state experienced a decrease in sales, though the smallest decrease was in the Northern Highlands, most likely due to their lower overall temperatures which makes northern and eastern Arizona a favorite place to escape the heat.
However, the durability in New Pending Sales suggests that August will still see decent sales activity (Chart 2). River Country's decrease (both in New Pending Sales and Sale Count) is seasonal, as we pointed out in last month's Report.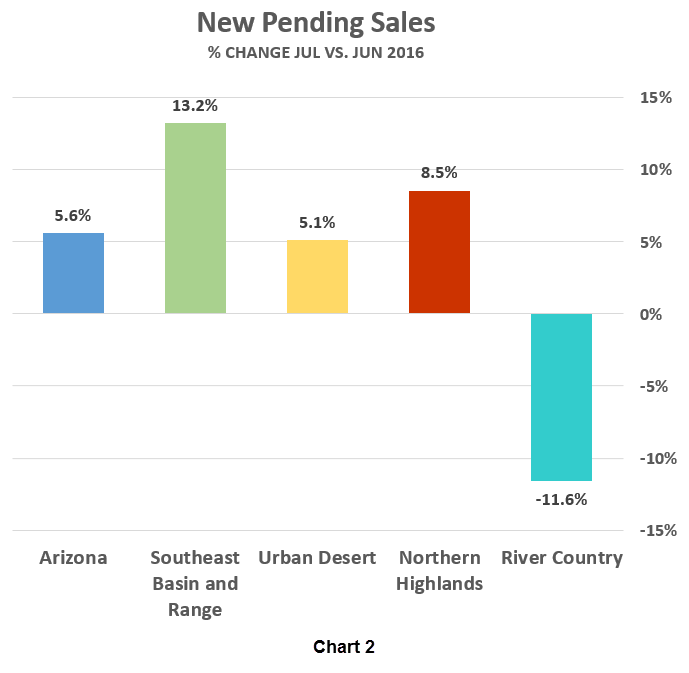 This apparent contradiction, New Pending Sales remaining strong while Sales Count decreases, makes it appear that lots of new contracts are being signed, but are not being reflected in sales figures. A likely explanation is that July 2016 has a little fewer business days this year (20 versus 22 in July 2015), which would account for fewer closings and a higher number of contracts waiting for an August closing. July is surely a transition month—we'll see how the cliffhanger resolves in August.
Inventories Lower — A Continuing Seller's Market
Active Listing are now at the lowest level in over two years, making the seller's market a little stronger (Chart 3). New Listings added to inventory continue to decrease, ranging from -9.7-percent in the River Country to -13.2-percent in the Southeast Basin and Range. Without a steady influx of new listings, the inventory will continue to shrink and increase most seller's advantage.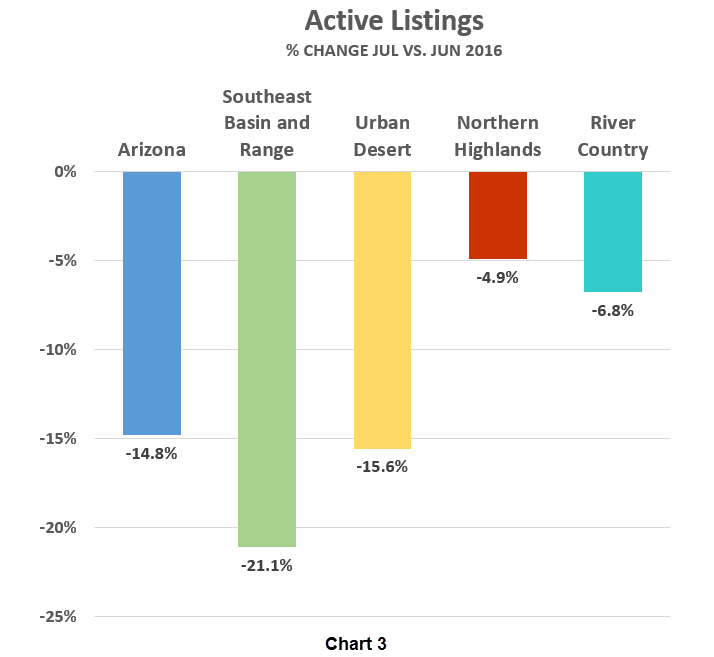 Prices Up Slightly in River Country, Down In the Rest of Arizona
Median Sales Price increased slightly across Arizona, except the Northern Highlands, where we saw a small decrease (Chart 4). As noted several times before, increased sales volume in lower price ranges can cause small decreases in median price.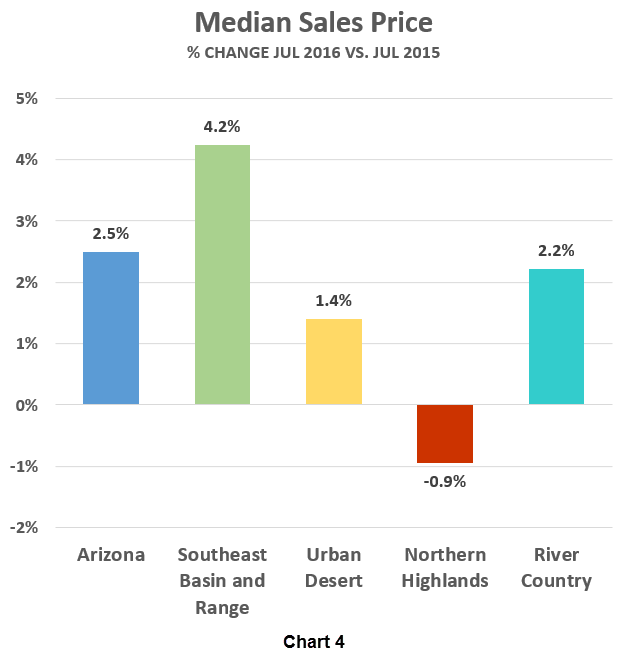 Summary
This is just a typical Arizona summer market. Reports of increasing new home construction could bring some relief to our inventory problems, primarily in large urban areas. As summer rolls on, we can expect some slowing in real estate markets followed by increasing volume in the fall.
Note
These statistics are sourced from the REALTOR® Property Resource (RPR), which draws them directly from MLS systems across Arizona. In some cases, RPR reports its statistics differently from MLSs, which may occasionally result in dissimilar figures. For discussion purposes, the state of Arizona is divided into four distinct regions. While we could chose regions many different ways, these groupings work well in terms of climate, economies and terrain.
| | | |
| --- | --- | --- |
| Region | Geographic Areas | % Total Units Sold |
|  Urban Desert |  Maricopa and Western Pinal Counties | 70.8% |
|  Southeast Basin and Range |  Tucson and counties south and east of Pima | 15.1% |
|  Northern Highlands |  Flagstaff, Prescott, Sedona, Payson and White Mountains | 8.5% |
|  River Country |  Kingman, Bullhead City, Lake Havasu City and Yuma | 5.6% |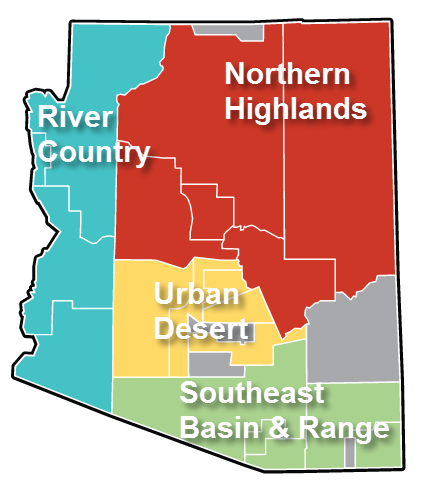 active listings
,
market report
,
median sales price
,
new pending sales
,
Northern Highlands
,
real estate market report
,
REALTOR® Property Resource
,
residential real estate market report
,
River Country
,
RPR
,
sales count
,
Southeast Basin and Range
,
Urban Desert